Anh Nguyen
October 14, 2022
Image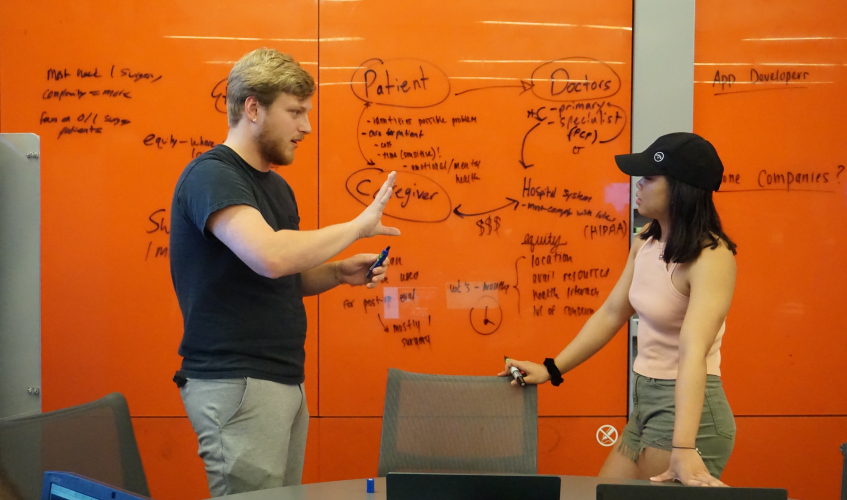 The EIH program is excited to announce 14 new health innovation projects for Fall quarter of 2022. Over 60 students from engineering, global health, and business join health professionals and engineering faculty to investigate critical challenges in global healthcare.
This year, the EIH program partners with Philips Healthcare and PATH, a Seattle-based global health nonprofit, for two projects: the former will develop methods to track the reprocessing cycles of cables and paddles in hospitals, while the latter will design a mobile emergency care system for snakebite victims in low- and middle-income countries.
This is the first time the program partners with a nonprofit organization.
"[Nonprofit] is a very different market from what we usually teach. We usually talk about big hospitals in the U.S. with big budgets and a well-defined set of clinicians and workflows," Jonathan Liu, mechanical engineering professor, said. "Obviously, in lower- to middle-income countries, things look very different for medicine."
The 14 projects are:
Non-invasive Intracranial Measurement for Head Injuries (UW Neurological Surgery, UW Mechanical Engineering)

Innovation in Extracorporeal Therapies to Treat Liver Failure Diseases (Northwest Kidney Center, Kidney Research Institute, UW Mechanical Engineering)

Advancing Safe Airway Care (Seattle Children's Hospital, Pulmonary Medicine, Craniofacial Center, Pediatric Otolaryngology)
Improving Endoscopic Vacuum Therapy (UW Gastroenterology)

Automating Mechanical Ventilation with Chest Compressions in CPR (UW Emergency Medicine)

Understanding Head Trauma and Concussions (UW Bioengineering)

Hospital Bed Design (UW Anesthesiology)

Wire Organization Technology (UW Anesthesiology and Pain Medicine)
Tissue Biopsy in Small Ducts (UW Urology)

Usage/Life Counter for Cables/Paddles (Philips Healthcare)

Mobile Emergency Care System for Snakebite Victims (PATH)

Addressing Racial Discrepancy in Pulse Oximetry (UW Otolaryngology, Seattle Children's Hospital Pediatric Otolaryngology,)

Smartphone-based Photogrammetry for Diagnosis of Craniofacial Conditions (Seattle Children's Hospital Craniofacial Center, UW Otolaryngology )
Miniature Fresh Tissue Biopsy Device (UW Nephrology)
The EIH follows a "need-based" design philosophy that starts with an unmet health or healthcare need. During week two of the quarter, students met their project partners – these are surgeons, anesthesiologists, urologists, nurses, among other healthcare professions – to investigate the problem space. They will later propose a solution to the unmet need after considering a holistic range of factors that contribute to the project's impact, which includes stakeholder needs, market opportunity, intellectual property, and FDA regulations, to name a few.
Participating in the EIH program is a unique, career-enhancing experience for students – they get to work on a year-long project with Seattle's top medical community to develop a solution that can one day be instrumental to our healthcare future.
In fact, EIH students can also tap into commercialization to take their prototype a step further. The EIH connects students to business professionals, attorneys, and the UW entrepreneurial community, such as CoMotion and the Arthur W. Buerk Center for Entrepreneurship, to navigate the process of forming a startup and generating intellectual property. MedsForAll, a startup that provides accessible rescue drug autoinjectors, was founded by EIH grad student Shawn Swanson during his time in the program.
"I feel like this is the closest capstone project I could do as an undergrad that gets me to true, structured entrepreneurship, which is what I've been looking for since I first stepped on campus," Tom Mikolyuk, fourth-year mechanical engineering student, said.
On December 8, students will present their projects at the EIH Fall showcase at the HUB Lyceum.
Projects will then be selected for the winter and spring quarters, during which students evaluate prototype solutions and present them at the Spring Symposium on May 30, 2023.
"I believe working with a clinical partner through EIH will be great preparation for the career of co-designing new products that I'm looking to take on post-graduation," Mikolyuk said.