Curious how medical technologies are developed? Want to make a difference by applying what you study to health and medical problems? Join the Engineering Innovation in Health program.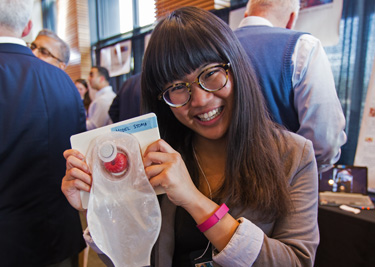 Engineering Innovation in Health brings together students across engineering disciplines with health professionals to develop solutions to pressing challenges in medicine. This interdisciplinary program accepts students at all levels and from a wide range of majors. Many teams also successfully compete in the UW Buerk Center for Entrepreneurship's Health Innovation Challenge and Business Plan Competition.
The primary focus of the EIH program is the three-quarter design sequence (autumn–spring); however, we also welcome students who wish to take the introductory autumn course or get involved in on-going projects.
Undergraduate students from a wide range of engineering departments — as well as those from health sciences, business, and science — can take the Engineering Innovation in Health three-quarter design course sequence (ME 414, ME 494, ME 495) that culminates in a capstone design project. During this course sequence, you will design, build, test, and evaluate a prototype medical technology or device in partnership with a medical professional (e.g., medical doctor, nurse, dentist, surgeon, etc.). Credit towards graduation can be earned in most majors. Learn more »
Graduate students from a wide a variety of engineering, science, and business disciplines are welcome to participate in Engineering Innovation in Health (listed under ME 514, ME 599, and ME 599). This three-quarter course sequence can be taken for credit towards graduation and is recommended for students interested in pursuing a M.S. project or thesis on a medical or health related topic. Learn more »
How to stay involved
Many students continue to work on their EIH projects after completing the three-quarter design sequence. The projects continue in a variety of way: as a start-up venture, a research project, or a thesis topic. There are opportunities to continue working on your project for a M.S. or Ph.D. and/or to be employed at the university. The path forward on each project depends on several factors and should be discussed with your team and mentors. View examples of ongoing projects »