Mission
Our mission is to develop innovative and accessible solutions to challenges in human health. We train the next-generation of health innovators and create and empower multidisciplinary teams.
What is Engineering Innovation in Health?
Engineering Innovation in Health (EIH) is a program that promotes interdisciplinary collaboration between engineering and the health sciences with the goal of developing technical solutions to pressing challenges in health care.
Undergraduate and graduate students can participate in EIH through the course sequence, while health care professionals can get involved by submitting unmet health challenges. If you are interested in working on previous EIH projects, please contact Jonathan Posner.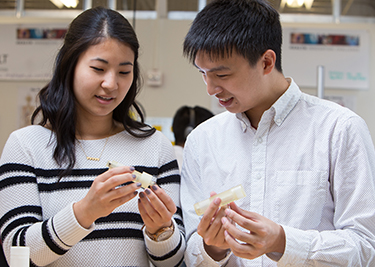 Who is involved?
EIH projects are cross-disciplinary and may involve:
Engineering students and faculty from across the College of Engineering
Medical doctors, surgeons, nurses, dentists, physical therapists, or any other allied health professional
Regulatory consultants
Intellectual property attorneys
Entrepreneurs and business professionals
What is the process?
EIH follows a need-based design philosophy that begins with an unmet health or healthcare need. To provide a solution to this need, teams consider a holistic range of factors that contribute to the project's impact, including stakeholders, market opportunity, intellectual property, FDA regulations, and reimbursement.
At the end of fall quarter, students present their project pitches in the Fall Showcase. The panel of judges selects the teams that will continue working on their concepts during winter and spring quarter.
By participating in EIH, students learn not only about bio-medical product design, they also receive an introduction to medical entrepreneurship, learning about the regulatory environment, benchmarking, intellectual property, and funding.
What is the outcome?
EIH teams translate their clinical challenges into innovative functional prototype solutions, designed to meet all the needs of their particular health challenges. These prototypes may take the form of a device, process, or application. The EIH program hosts a Spring Showcase to share these health innovations with the wider UW community.
EIH prototype solutions are the first step in addressing a clinical challenge. These solutions can be carried forward in a variety of endeavors, including launching the device to generate patents or using the preliminary data gathered for subsequent publications and grant applications. With continued development, the solution provides the potential for new, innovation-based clinical evaluations, research projects, or spinout companies.

What is the Impact?

Over the past eight years, EIH has formed over a hundred of interdisciplinary student-clinician teams to develop technical solutions to unmet needs in human health. We have engaged students from nine engineering and science departments and clinicians from across UW Health Science Schools, Seattle Children's Hospital, and clinics from IDaho and Alaska. Many EIH projects sought protection of their intellectual property through patents, have raised external funding, are being evaluated on patients in hospitals and clinics, and are in early stage commercialization.
History of EIH
EIH was founded in 2013 in the Department of Mechanical Engineering at the University of Washington under the name Engineering Innovation in Medicine. The program was the brainchild of a small committee of faculty and external advisory board members: Jonathan Posner (ME faculty), Per Reinhall (ME chair), Fred Silverstein, Paul Leonard, Jon Bishay, and James Reichman.
Since its inception, the program has grown to engage students from nine engineering and science departments. Over 200 students have participated in the program — 80% undergraduate, 15% master's, 5% doctoral — and worked with more than 100 clinicians.
The program was renamed to Engineering Innovation in Health to better describe the focus on improving health, rather than treating disease, through collaboration with a diverse range of health sciences that includes nursing, dentistry, public health, and social work.
EIH Advisory Board
Tony Crawford
Mike Sekins (Chair Emeritus)
Scott Thielman
Randy Bly
Lisa Johnson
Anders Brown
Shelby Brunke (Chair)
Tom Clary
Steven Daly
Nick Durr
Bich Le
Greg Valentine
Charles Magness
Jeff Bernson
Dipika Matthias
Rashmi Rao
John DesRosier
Sami Dogan
Advisory Board Emeritus
Fred Silverstein (EIH founder)
Sheryl Burgstahler
Glen Johnson
Bijan Dorri