Anh Nguyen
April 12, 2023
Image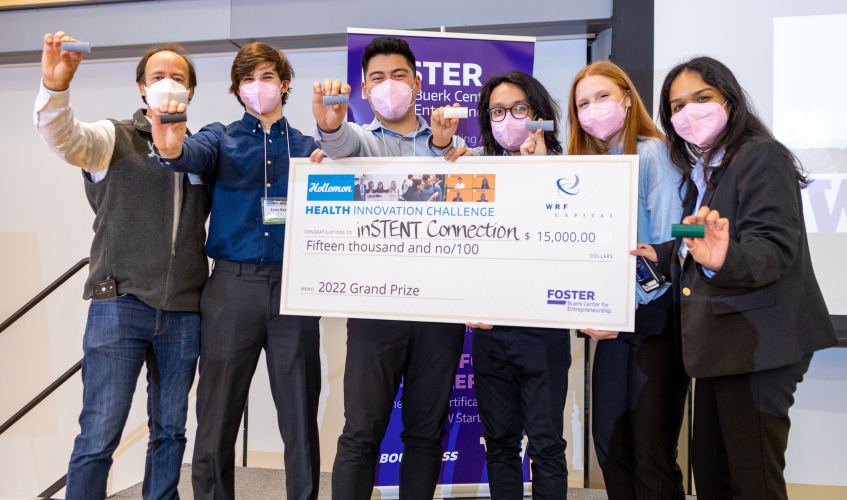 One year ago, a team of five EIH students took home the Washington Research Foundation (WRF) Capital Grand Prize at the 2022 Holloman Health Innovation Challenge (HIC) for their groundbreaking innovation: a resorbable stent designed to reduce complications in gastrointestinal tract surgery. The team's approach to health engineering captured the attention of judges and industry experts, earning them a grand prize of $15,000. 
The team, inSTENT Connection, was one of the seven EIH teams selected as finalists to compete in the Holloman HIC. The four remaining student team members are Gillian Pereira and Brandon Lou, now graduate students in Materials Science and Engineering, Clara Black, now a graduating undergraduate fourth-year student in Mechanical Engineering, and Jimmy Ye, now a Chemical Engineering and Biochemistry recent grad.
The team also includes Professor Eric Seibel, a UW Mechanical Engineering faculty member, as an engineering mentor and Dr. James Park, a UW Medicine oncology surgeon, as a clinical partner.  
I recently had the chance to catch up with the inSTENT team members to ask them about the science behind the stent, their journey to success, and the teamwork that made it happen.
It's been one year since you won the Grand Prize at the Holloman HIC. What has your team been up to?
Brandon: Since winning the HIC, we participated in the Dempsey Startup Competition where we won the Fourth Place Prize and the Perkins Coie Best Innovation Technology. Over the summer, we participated in UW CoMotion's National Science Foundation's (NSF) Innovation Corps (I-Corps) workshop to learn more about our device's application in the medical world. Our team then attended the Medical Device and Manufacturing (MD&M) West conference last February in Anaheim, CA. We met people in the manufacturing industry who helped us learn about producing our devices at a larger scale.  
Can you tell me about your team's project? 
 Clara: If someone has colon cancer, they often have to get a segment of their intestines removed. The surgeon then has to reconnect the two ends of the intestine together. That is currently being done using staples or sutures, which can leak up to 30% of the time. Leakage of the intestinal fluids into the rest of the body is really bad. inSTENT has created a stent that will go into the intestines to replace staples or sutures. This will help eliminate any leakage in the intestines. 
 Gillian: There are no effective solutions in the market for this problem. Staples and sutures dominate the market so there's really no incentive to innovate. Our clinical partner Dr. Park came to the EIH program and said, "We have this problem. How would you approach this unmet need?" 
What was your partnership with UW Medicine like? 
Brandon: Our relationship with Dr. Park and UW Medicine has been very streamlined, efficient, and helpful. Dr. Park has gone above and beyond to get information and resources for us to succeed in our project. A big part of why we're so confident in our design is because of his help and feedback. 
How about your teamwork?
Brandon: Our team has succeeded because of our ability to work efficiently and keep a positive work environment. Even though we had deadlines and things to stress over, it never affected our teamwork.
Let's talk about the Hollomon HIC. How did you prepare for it? What strategies did you use to stand out from other teams? 
Brandon: Cue cards! We used them to practice the questions and answers so we knew them better as a team. The EIH, in particular, helped us understand the different lenses that these professionals would have. The judges have different backgrounds and they approach every project differently. One person might be asking, "How are you going to do animal testing?" and another could ask, "What's your plan to get this to market?" There were a million spaces that we needed to prepare for. 
Gillian: Another thing I think made us stand out is our demo. We had a tank filled with water that contained two segments of a pig intestine that had been reconnected with our stent. We had colored water flowing through the stent and intestines, submerged in clear water. Our demo showed that our stent prevents leakage of the colored water. I think having a demo really helped us stand out and bring people to our booth. People would be walking by the booths and they'd be like, "Whoa, is that an organ?" We would say, "Yes, this is an intestine! Come and hear about it."   
Image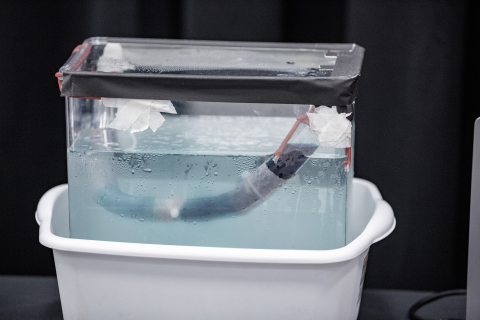 What is your most memorable experience from the competition? 
 Jimmy: Winning it! When they announced our name, we all looked at each other and audibly said, "No way." We all walked up on stage and couldn't believe what had just happened. At that moment, it was a lot of validation of what we had done. 
Gillian: After the judging ended, there was a reception where the judges and candidates went. We were sitting at tables with the other judges, a few UW professors, and startup entrepreneurs in the Seattle area. We talked and networked; they gave us so much career advice. I even got offered a job interview on the spot! 
Image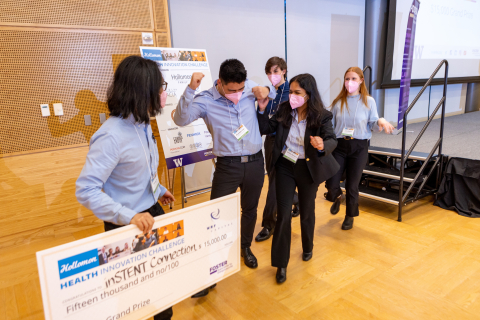 What did you learn from this experience, and how has it influenced your future career goals? 
 Jimmy: One of the things that I learned was that medical devices are among the hardest things to commercialize. A lot of medical devices require FDA clearance and clinical trials, and even when you get to that point, it's very hard to find investors. For some products, the process could take five to 10 years, and it's very hard to tell people to invest in a project that may or may not work. There are so many hoops you have to jump through. 
Gillian: A big thing I learned is the benefits of working in an interdisciplinary team. When we were in EIH, we had two materials science engineers, two chemical engineers, and one mechanical engineer. There would be brainstorming sessions where we would see each person's perspective playing a role in the discussion. Even between the two materials science engineers, we did research on different things. Everyone brought their own perspective in the design process and specialized in different tasks. 
Clara: Through the HIC and other competitions, I've really learned the power of networking and the difference it makes in your career. I think my experiences in the HIC have given me leadership and networking opportunities. I actually have a job lined up at Paccar, a trucking company, as an engineer! 
There's so much networking going on at the event! What are your networking strategies? 
Clara: Remember people's names, write them down, and reach out over LinkedIn. People love talking to students, and people who come to these events are there to talk to students. I think this strategy has a high success rate, and you never know where those relationships might lead. 
What advice would you give to students in the EIH program who want to participate in an engineering competition? 
Brandon: Judges were most impressed by one, the demonstrations, and two, our provisional patent filed prior to the HIC. In general, I'd say try to find some form of novelty. A provisional patent is an official sign of novelty that was impressive to the judges. If you can't get the provisional patent, have some form of evidence or confirmation that your idea is novel. 
Gillian: I would ask for help if you need it, and don't be afraid to take advantage of the resources at the HIC. We attended every single info session and practice session they offered. We took every chance to ask questions and get feedback. It's one of the things that helped us prepare for the competition day itself. The EIH also provides really great resources.  
Finally, how did you celebrate your victory? 
Gillian: We all went to dinner. It was really fun because it was such a long day. It was nice to celebrate with a group of people who had been there too. 
Photography by Matt Hagen.