Jay Park
Image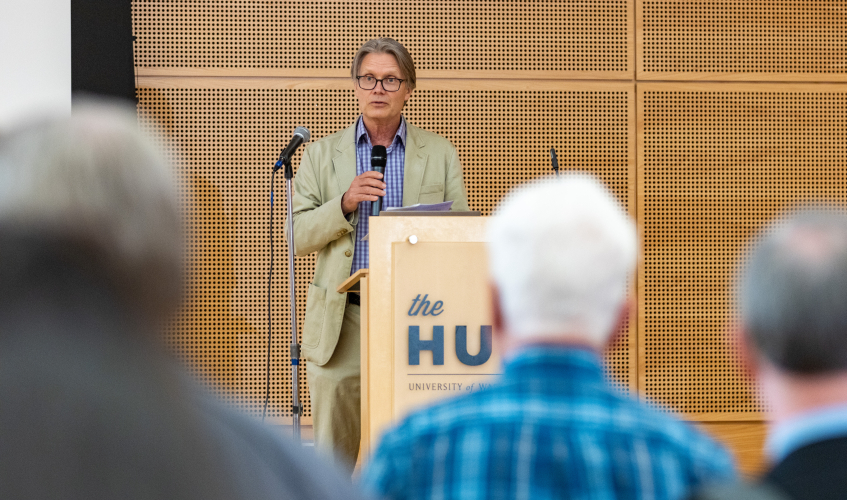 We have reached the end of our 10th year of Engineering Innovation in health. Our eight teams were given unique and challenging problems in the health space. Through three quarters of work, many visits with advisors and sponsors, and multiple prototypes later, each team has reached a promising solution to their problem.
The teams presented their solutions at our annual Spring Symposium. The symposium began with opening remarks by Provost Mark Richards, followed by a keynote presentation by Dipika Matthias, global program director at PATH. The students were then given an opportunity to give short project pitches, prior to a poster session for the attendees.
We wanted to share the projects and their solutions here for those that are interested in EIH and were unable to attend the Spring Symposium.
AMOR
Alexander Novokhodko, Avocet Nagle-Christensen, Nanye Du, Sarmad Hassan, Shaohang Hao, Ye Jin, Yuji Furukawa, Ziyuan Wang; Advisors: Dayong Gao, Suhail Ahmad, Zhiquan Shu, Carla Pagotto, Shen Ren, Terri Butler, Soyoung Kang, Kiehl Sundt
AMOR stands for Advanced Multi-Organ Regeneration and sought to address the unmet needs of 1.7 billion people suffering from chronic liver disease. Developing on research pioneered by UW medicine, AMOR developed a hemofiltration and albumin dialysis device concept that can remove the blood toxins specific to liver failure.
The team says that their dream for the project is to "get through FDA approval and into hospitals so that they can start saving liver failure patients lives."
Currently
Sophia Anderson, Sangyoon Back, Vivian Lu, Arush Sharma; Advisors Dawn Jorgenson, Christopher Zimny, Mark Fiebig, Edward Kompare, Steve Phillips
The Currently team was presented with the ongoing failure of ECG cables due to fatigue failure. These failures are frequently identified at fracture, delaying medical interventions as replacements are found. The Currently team have developed a solution that uses a sacrificial indicator that will fracture prior to the cable, notifying clinicians to the imminent failure before the cable is unusable. This project was sponsored by Philips Medical.
When asked what advice to give to future EIH teams, currently replied that the students should "jump in" to their projects and connect with their clinical partners and start research into their project as soon as possible in the Fall quarter.
ICP
Griffin Boone, Faizan Nomani , Matt Hartono, Frank Arterberry; Advisors: Aniruddh Vashisth, Varadaraya Shenoy
This team was asked to find a way to help treat the 69 million people who experience traumatic brain injuries. Intracranial Pressure (ICP) is a key indicator of brain health in these patients, but is hard to measure without drilling into the skull. The ICP team explored a dual-faceted approach of measuring the pulsality index through transcranial doppler, alongside a pupillometry measure using smartphone cameras. These parallel measurements should provide the data necessary to measure the IP of patients.
The ICP team said that their favorite part of EIH was the opportunity to "create a design from start to finish… and being able to work on a project that really matters."
Neuroject
SiQi He, Parth Chandna, Ethan Goldner; Advisors: Scott Knacksedt, Eric Seibel
With 138,000 people dying each year from snake bites, the Neuroject team was tasked with finding a more reliable way to transport, store, and inject the two-part antivenom in rural and remote communities. The team created a design that houses two medication chambers that are mixed and injected through a single needle. The design has been made with a priority on lowering costs and improving usability. This project was sponsored by PATH, a global health non-profit organization.
The Neuroject said that the biggest thing they learned in EIH was "how difficult the design process is when you are looking at all the different stakeholders and unmet needs.
Simpl-e-VAC
Anya Prasad, Joseph Shim, Srividhya Rajagopalan, Sweta Sivakumar, Tom Mikolyuk; Advisors: Adam Templeton, Eric Seibel
There is currently no FDA-cleared device that can treat Gastro-intestinal (GI) leaks, requiring clinicians to improvise a solution when performing endoscopic vacuum therapy near a tear in the GI tract. Simpl-e-VAC explored an integrated system that combines a nasogastric tube, guidewire, and self-expanding sponge. This approach allows for clinicians to immediately begin treatment instead of assembling a solution in the OR.
The Simple-e-VAC team said that they loved how "EIH was the best way for them to combine all the stuff they have learned in their degree, and [allowed them to] pursue an intersection between engineering and health."
SmarTrach
Hans Erickson, Dylan Heino, Vamsi Jonnalagadda, Clara Tamura; Advisors: Soyoung Kang, Andrew Davidson, Leslie Elder, Thida Ong
The SmarTrach team sought to improve the lives of the 4,500 children who are treated with tracheostomies. These treatments have a mortality rate of 7.3%, primarily due to the blockage of the airway due to mucus. SmarTrach proposes a device that can detect the changes in flow rate that indicates a partial or full blockage of a tracheostomy device.
When asked about their dream for this project, the team shared that they "recently met with a tracheostomy patient and her mother and would love to bring their … [solution to them to see if it] … can help her at all."
Sync-Up
Emily Adshead, Ben Healey, Nicole Chan, Rauf Kareem; Advisors: Soyoung Kang, Nicholas Johnson, Jordan Sheehan, Ryan Alcantara
The Sync-Up team was presented with a common problem experienced by cardiac arrest patients where ventilators can cause trauma to the lungs when used in conjunction with chest compressions. Sync-Up seeks to add a sensor to ventilators that can sense chest compressions and provide air to the patients in sync with those compressions.
The team says that their favorite thing about EIH was "being able to make an actual medical device, and working with medical partners in the area."
WiOTech
Shaan Brar, Lee Duan, Nicole Gouhin; Advisors: Hanan Baker, Jonathan Liu
In an increasingly tech-centered healthcare system, keeping wires organized has become a challenge in many life critical situations. The WiOTech team explored many ways to keep wires organized, untangled, and sterile. The current solution uses compliant lobes that will securely hold a coil of wires while remaining easy to remove.
When asked how they benefitted from EIH, the team replied that they were able to " work on both their technical and soft skills … and really learning how all this stuff meshes into development."
Originally published June 14, 2023